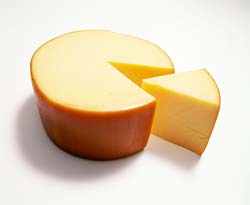 About smoked gouda
Edit
Smoked slowly in ancient, brick ovens over smoldering hickory chip embers, this sausage shaped cheese is perfect for impromptu picnics party platters or midnight snacks. Sensational with beer, this hard cheese has an edible, brown rind and a creamy, yellow interior.
If you like that "smoky" taste, here's your cheese.
Ad blocker interference detected!
Wikia is a free-to-use site that makes money from advertising. We have a modified experience for viewers using ad blockers

Wikia is not accessible if you've made further modifications. Remove the custom ad blocker rule(s) and the page will load as expected.