Description
Edit
Real beef and horseradish mix and cook, as they are then made with cream cheese, sour cream, and Dijon mustard, grilled to a white-hot aroma, and served with other dishes.
Ingredients
Edit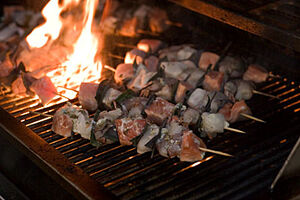 6 oz. cream cheese, softened
¼ cup sour cream
1 tbsp. prepared horseradish
2 tsp. Dijon mustard
1 pkg. meat marinade or barbecue sauce
⅓ cup white vinegar
⅓ cup water
2 tsp. Worcestershire sauce
1 ½ pound beef, top round steak, cut into cubes for kabobs
Directions
Edit
Preheat the grill or broiler. In a small bowl, thoroughly combine cream cheese, sour cream, horseradish, and mustard.
Refrigerate until ready to serve. In a medium bowl, thoroughly combine contents of marinade package with vinegar, water, and Worcestershire sauce.
Place beef cubes in marinade; pierce deeply with a fork. Marinate 15 minutes, turning occasionally. Thread small skewers with meat.
Grill or broil beef 5 to 6 inches from heat, 8 minutes per side for medium.
Baste with remaining marinade. Serve the beef skewers with horseradish sauce.
You can simply use barbecue sauce in place of the marinade. You can also use the beef cubes to mix up with the barbecue sauce to place the meat on skewers before grilling.
Nutritional Information
Edit
Servings: 3 skewers per plate
Contributed by:
Edit
Ad blocker interference detected!
Wikia is a free-to-use site that makes money from advertising. We have a modified experience for viewers using ad blockers

Wikia is not accessible if you've made further modifications. Remove the custom ad blocker rule(s) and the page will load as expected.