Description
Edit
Ingredients
Edit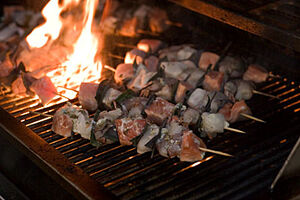 6 oz. cream cheese, softened
¼ cup sour cream
1 tbsp. prepared horseradish
2 tsp. Dijon mustard
1 pkg. meat marinade or barbecue sauce
1/3 cup white vinegar
1/3 cup water
2 tsp. Worcestershire sauce
1 ½ pound beef, top round steak, cut into cubes for kabobs
Directions
Edit
Preheat the grill or broiler. In a small bowl, thoroughly combine cream cheese, sour cream, horseradish, and mustard.
Refrigerate until ready to serve. In a medium bowl, thoroughly combine contents of marinade package with vinegar, water, and Worcestershire sauce.
Place beef cubes in marinade; pierce deeply with a fork. Marinate 15 minutes, turning occasionally. Thread small skewers with meat.
Grill or broil beef 5 to 6 inches from heat, 8 minutes per side for medium.
Baste with remaining marinade. Serve the beef skewers with horseradish sauce.
Nutritional Information
Edit
Servings: 2 skewers per plate
Contributed by:
Edit
Ad blocker interference detected!
Wikia is a free-to-use site that makes money from advertising. We have a modified experience for viewers using ad blockers

Wikia is not accessible if you've made further modifications. Remove the custom ad blocker rule(s) and the page will load as expected.