Description
Edit
Found in all regions. Leaving the meat in a mixture of milk, onions, olive oil, tomato paste, salt and pepper is called "terbiye" (marinating). This process makes the meat more tender and enhances its taste. Some make the kebab with meat cubes only. It is served at lunch or dinner with pilaf or with a vegetable dish with olive oil.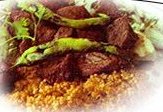 Ingredients
Edit
Directions
Edit
Cut meat into 2 cm. cubes. Peel, wash and grate the onions, drain the juice and mix it well with milk, olive oil, tomato paste, salt and black pepper. Refrigerate the meat in this mixture for 24 hours. Wash the vegetables, remove the stems of the peppers. Chop the peppers 2 cm. thick and the tomatoes into 2 cm. cubes. Pass the meat, pepper and tomatoes alternately over skews. Broil each side over charcoal fire or in an electric grill for 3–4 minutes, turning until all sides are broiled.
Other Links
Edit
See also
Edit
Ad blocker interference detected!
Wikia is a free-to-use site that makes money from advertising. We have a modified experience for viewers using ad blockers

Wikia is not accessible if you've made further modifications. Remove the custom ad blocker rule(s) and the page will load as expected.