Description
Edit
Singkamas is the filipino term for jicama. It's a white succulent fleshy root crop, usually a good summer snack. It can also be made to a very simple refreshing salad.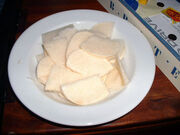 Ingredients
Edit
Directions
Edit
Peel jicama. Slice peeled jicama into thin slices. Add the vinegar and sprinkle with salt. Refrigerate and serve cold.
Other Links
Edit
See also
Edit
Ad blocker interference detected!
Wikia is a free-to-use site that makes money from advertising. We have a modified experience for viewers using ad blockers

Wikia is not accessible if you've made further modifications. Remove the custom ad blocker rule(s) and the page will load as expected.