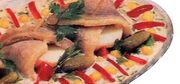 Description
Edit
Herring in sour cream
Ingredients
Edit
Directions
Edit
Desalt or drain the herring filets, depending on which kind you are using.
Cut them across into fairly thin slices.
Beat the sour cream or skyr and season it with the vinegar and sugar (of which you may use more or less according to taste).
Add the chopped chives.
Arrange the herring slices in a dish, so they are not touching each other.
Pour the sour cream mixture over them and wait for 3–4 hours before serving the dish.
Ad blocker interference detected!
Wikia is a free-to-use site that makes money from advertising. We have a modified experience for viewers using ad blockers

Wikia is not accessible if you've made further modifications. Remove the custom ad blocker rule(s) and the page will load as expected.