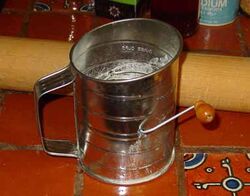 About Sifter
Edit
A mesh-bottomed kitchen utensil used to sift ingredients such as flour or confectioners' sugar. Sifters are usually made of stainless steel or heavy-weight plastic. There are versions with rotary cranks as well as those that are battery operated.
Usefull For
Edit
Buying Sifter
Edit
Other usual names for Sifter
Edit
Ad blocker interference detected!
Wikia is a free-to-use site that makes money from advertising. We have a modified experience for viewers using ad blockers

Wikia is not accessible if you've made further modifications. Remove the custom ad blocker rule(s) and the page will load as expected.