Description
Edit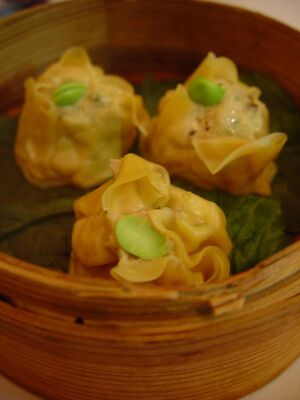 Japanese steamed wontons. While shu mai are in reality Chinese dim sum, they magically become japanese steamed wontons in this recipe.
Ingredients
Edit
Optional Dipping Sauce
Edit
Directions
Edit
Stir together ground beef, ginger, green onions, soy sauce, sugar sesame oil and cornstarch in a bowl, until the mixture becomes very sticky.
Divide mixture into 24 parts.
Holding tips of index finger and thumb together, place a wonton skin on top and top the skin with a portion of the meat.
Gently press the meat into the"hole" made by your fingers coming together to get the wrapper to come around the sides of meat.
Gently flatten the bottom of the shu mai.
Repeat with the remaining wrappers and meat.
Place a pea in the center of the meat on each shu mai and top the meat with a thin coating of oil.
Place shu mai in a steamer basket and steam for 12 – 14 minutes over high heat.
Boil mixture for 1 – 2 minutes then allow to cool.
Ad blocker interference detected!
Wikia is a free-to-use site that makes money from advertising. We have a modified experience for viewers using ad blockers

Wikia is not accessible if you've made further modifications. Remove the custom ad blocker rule(s) and the page will load as expected.