Description
Edit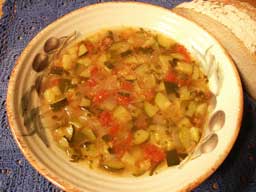 This recipe is for 4 serves.
Ingredients
Edit
Directions
Edit
Bring to a boil, then reduce heat and simmer, covered, for 20 minutes.
Then add the zucchini and cumin and cook uncovered another 15 minutes, until the lentils and potatoes are tender.
When ready to serve, ladle the soup into bowls, sprinkle each with lemon juice, and serve a lemon wedge with each portion.
Ad blocker interference detected!
Wikia is a free-to-use site that makes money from advertising. We have a modified experience for viewers using ad blockers

Wikia is not accessible if you've made further modifications. Remove the custom ad blocker rule(s) and the page will load as expected.