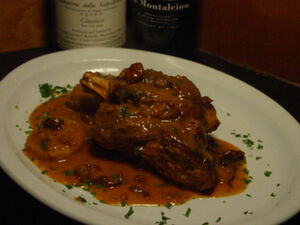 About shank meat
Edit
The front leg of beef, veal, lamb or pork. Though very flavorful, it's full of connective tissue and is some of the toughest meat on the animal. It therefore requires a long, slow cooking method such as braising. Beef shank is used for ground beef.
See also
Edit
Ad blocker interference detected!
Wikia is a free-to-use site that makes money from advertising. We have a modified experience for viewers using ad blockers

Wikia is not accessible if you've made further modifications. Remove the custom ad blocker rule(s) and the page will load as expected.