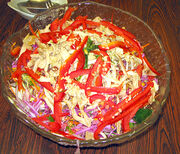 Ingredients
Edit
Directions
Edit
Soak the bean thread noodles and the seaweed in cold water and leave for 10 minutes.
Peel the potatoes and cut into cubes.
Add the turmeric, salt and sesame oil. Stir well.
Add 1 pint of cold water and cook for 20 minutes (Gas mark 4).
Once the tofu and potatoes are cooked take the bean thread and cut into small pieces, rinse the seaweed, add to the curry.
Cook for another 5 minutes.
Lastly, season to taste and add the tomato.
Serve hot with boiled rice.
Ad blocker interference detected!
Wikia is a free-to-use site that makes money from advertising. We have a modified experience for viewers using ad blockers

Wikia is not accessible if you've made further modifications. Remove the custom ad blocker rule(s) and the page will load as expected.