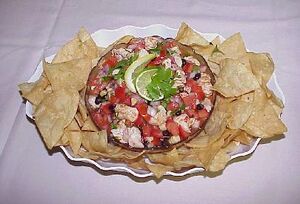 An appetizer popular in Latin America consisting of raw fish marinated in citrus (usually lime) juice. The action of the acid in the limejuice cooks the fish, thereby firming the flesh and turning it opaque. Onions, tomatoes and green peppers are often added to the marinade. Only very fresh fish should be used for this dish. Pompano, red Snapper and sole are the fish most often selected for seviche (which is also spelled ceviche and cebiche).
Ad blocker interference detected!
Wikia is a free-to-use site that makes money from advertising. We have a modified experience for viewers using ad blockers

Wikia is not accessible if you've made further modifications. Remove the custom ad blocker rule(s) and the page will load as expected.