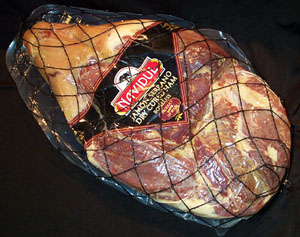 A dry-cured Spanish ham that comes from white hogs, which are raised in southern Spain and fed a diet of acorns. The ham is cured in a cool, high altitude and aged for at least 9 months. The ham is not smoked but has an intense yet mild flavor, a pleasing aroma and a coarse texture. Jamon Serrano has a reputation of being one of the sweetest hams. It is served raw in thin slices, similar to prosciutto.
Ad blocker interference detected!
Wikia is a free-to-use site that makes money from advertising. We have a modified experience for viewers using ad blockers

Wikia is not accessible if you've made further modifications. Remove the custom ad blocker rule(s) and the page will load as expected.