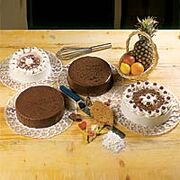 Ingredients
Edit
Directions
Edit
Preheat the oven to 350 °F. Beat the egg whites until stiff and gradually beat in one cup of the sugar.
Fold in the crumbs, lemon rind, and lemon juice.
Fold in the ground almonds and divide the mixture among four greased nine inch layer pans, lined on the bottom with parchment paper or unglazed brown paper.
Bake fifteen to twenty minutes, or until layers are faintly browned.
Cool on a rack.
Place the yolks and the remaining sugar in the top of a double boiler and cook over hot water until sugar dissolves and mixture thickens.
Do not allow mixture to boil; it will curdle.
Refrigerate until mixture is spreading consistency.
Use to fill and frost the layers.
Garnish with the sliced almonds.
Refrigerate until firm.
Ad blocker interference detected!
Wikia is a free-to-use site that makes money from advertising. We have a modified experience for viewers using ad blockers

Wikia is not accessible if you've made further modifications. Remove the custom ad blocker rule(s) and the page will load as expected.