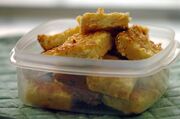 Ingredients
Edit
Directions
Edit
Preheat the oven to 200 °C / 400 °F.
Butter a 1.75 litre / 3 pint / 7½ cup loaf tin with the slices of streaky bacon.
Stretch the slices with the back of a knife, if necessary, to completely fill the tin.
Fry thediced bacon in a large frying pan until almost crisp.
Stir in the onion and garlic and fry for a further 2–3 minutes until they are soft and a pale golden brown.
Season and mix well.
Spoon the mixture into the loaf tin.
Level the top and cover the tin with foil.
Bake for about 1hour and half.
Ad blocker interference detected!
Wikia is a free-to-use site that makes money from advertising. We have a modified experience for viewers using ad blockers

Wikia is not accessible if you've made further modifications. Remove the custom ad blocker rule(s) and the page will load as expected.