Description
Edit
Peruvian lamb stew / curry, serves 4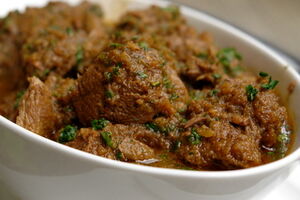 Ingredients
Edit
Directions
Edit
Place the lamb in the marinade.
Marinate at room temperature for 1 to 2 hours.
Remove the lamb from the marinade.
Heat the 2 tablespoons olive oil over high heat.
Brown the lamb.
Transfer the lamb to a plate and set aside.
Add the tomatoes.
Saute, stirring for about 10 minutes.
Add the beer, boil and lower the heat.
Cook for about 10 minutes.
Return the browned lamb to the pan, along with the accumulated juices from the plate and remaining marinade.
Add the stock and stir to mix.
Boil, then reduce the heat and simmer the dish, covered, for about 1 hour.
Add the coriander and lime juice, stir to mix, and cook for 5 minutes more.
Serve with rice and beans.
Ad blocker interference detected!
Wikia is a free-to-use site that makes money from advertising. We have a modified experience for viewers using ad blockers

Wikia is not accessible if you've made further modifications. Remove the custom ad blocker rule(s) and the page will load as expected.