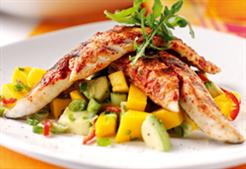 Ingredients
Directions
Edit
Blend mangos in a blender at medium speed for approximately 10 seconds or until pureed.
Add in the rest of the ingredients slowly, blend for another 15 seconds or until smooth.
Refrigerate mixture for approximately 30 minutes.
Grill seabass until moist (do not overcook).
Hold in warm oven.
Toss field greens and grapes in vinaigrette until lightly coated.
Recipe courtesy of Sun Soy
Ad blocker interference detected!
Wikia is a free-to-use site that makes money from advertising. We have a modified experience for viewers using ad blockers

Wikia is not accessible if you've made further modifications. Remove the custom ad blocker rule(s) and the page will load as expected.