Description
Edit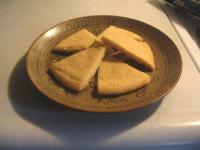 An unusual shortbread recipe in that this one also uses brown sugar and some cornmeal - it works!!! Delicious with ice cream, or on they're own.
Ingredients
Edit
Directions
Edit
Place rack in center of oven.
Preheat oven to 330°F.
Add flour, ¼ cup at a time, beating until just combined.
Divide dough into 4 balls and on each of 2 baking sheets, press 2 of the balls into 5 inch rounds.
With fork tines, score each round into 6 wedges and prick edges decoratively.
Bake for 20 – 30 minutes, or until shortbread is just firm.
Cut halfway through each round along prick marks and transfer to racks to cool.
Ad blocker interference detected!
Wikia is a free-to-use site that makes money from advertising. We have a modified experience for viewers using ad blockers

Wikia is not accessible if you've made further modifications. Remove the custom ad blocker rule(s) and the page will load as expected.