Description
Edit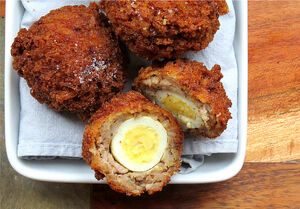 Although Scotch eggs have been around for eons. They are heavily seasoned and accompanied by a pint of Newcastle brown ale.
Ingredients
Edit
Directions
Edit
Hard-boil the eggs by placing them in a pan of cold water and heating slowly until it starts to simmer.

Do not allow water to boil as this will toughen the whites, but keep at this temperature for 30 minutes.

Dip them in seasoned flour.

Fry in deep fat or oil (375 °F) until golden brown.

Drain, and cut in halves.

Serve hot or cold.
Ad blocker interference detected!
Wikia is a free-to-use site that makes money from advertising. We have a modified experience for viewers using ad blockers

Wikia is not accessible if you've made further modifications. Remove the custom ad blocker rule(s) and the page will load as expected.