Description
Edit
This is a staple in every self-respecting Scottish household. It will take the chill out of you on a cold winter's evening.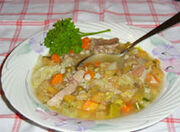 Ingredients
Edit
Directions
Edit
Add the barley, partially cover the pot, and simmer until the meat and barley are tender, about 1½ hours.
Add more water to adjust for any evaporation; skim the surface of the soup as necessary.
Remove meat from broth; cut meat from bone and cut in small pieces.
Discard the bones and return the meat to the soup.
Continue simmering.
In a skillet, melt the butter over medium heat.
Add the vegetables to the soup.
Simmer for about 10 minutes, or until the vegetables are tender.
Ad blocker interference detected!
Wikia is a free-to-use site that makes money from advertising. We have a modified experience for viewers using ad blockers

Wikia is not accessible if you've made further modifications. Remove the custom ad blocker rule(s) and the page will load as expected.