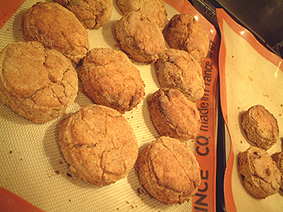 This Scottish
quick bread
is said to have taken its name from the Stone of Destiny (or Scone), the place where Scottish kings were once crowned. The original triangular-shaped scone was made with oats and griddle-baked. Today's versions are more often flour-based and baked in the oven. They come in various shapes including triangles, rounds, squares and diamonds. Scones can be savory or sweet and are usually eaten for breakfast or tea.
Ad blocker interference detected!
Wikia is a free-to-use site that makes money from advertising. We have a modified experience for viewers using ad blockers

Wikia is not accessible if you've made further modifications. Remove the custom ad blocker rule(s) and the page will load as expected.