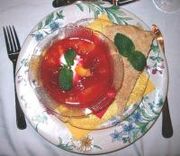 Ingredients
Edit
Garnishes
Edit
mint leaves (for garnish)
Directions
Edit
In blender container, puree 1 package raspberries, strain to remove seeds.
In medium saucepan, combine pureed raspberries, orange juice, lemon juice and cornstarch; mix well.
Over medium heat, cook and stir until slightly thickened and clear; cool.
Stir in remaining package of raspberries and Chablis. Chill.
To serve, place several orange sections in each bowl; add soup.
Garnish as desired; serve with sour cream.
Refrigerate left- overs.
Other Links
Edit
See also
Edit
Ad blocker interference detected!
Wikia is a free-to-use site that makes money from advertising. We have a modified experience for viewers using ad blockers

Wikia is not accessible if you've made further modifications. Remove the custom ad blocker rule(s) and the page will load as expected.