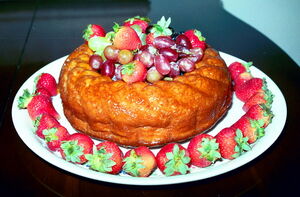 This variation on the
Baba
is made without raisins and baked in a large ring mold. Named after Brillat-Savarin, a famous 18th-century food writer, this rich yeast cake is soaked with rum-flavored syrup and filled with Pastry Cream, Creme Chantilly or fresh fruit.
Ad blocker interference detected!
Wikia is a free-to-use site that makes money from advertising. We have a modified experience for viewers using ad blockers

Wikia is not accessible if you've made further modifications. Remove the custom ad blocker rule(s) and the page will load as expected.