Description
Edit
A great appetizer for parties. You can keep these warm in a small crockpot. Can be prepared ahead and refrigerated, then easily reheated just before serving.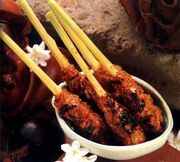 Ingredients
Edit
Meatballs
Edit
Directions
Edit
Preheat oven to 350 °F.
Mix together all ingredients for meatballs.
Shape into approximately 32 meatballs.
Place meatballs on a baking pan, and bake for 15 – 20 minutes or until cooked through.
Stir in coconut milk and peanut butter, mixing until smooth.
Add remaining ingredients and mix well.
Reduce heat and simmer until sauce thickens.
Add meatballs to sauce and gently stir to coat meatballs.
Cook 2 – 3 minutes more or until dish is heated through.
Ad blocker interference detected!
Wikia is a free-to-use site that makes money from advertising. We have a modified experience for viewers using ad blockers

Wikia is not accessible if you've made further modifications. Remove the custom ad blocker rule(s) and the page will load as expected.