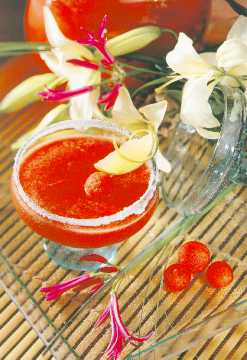 Although sometimes confused with
Sangria
, this Spanish/Mexican drink is not the same at all. There are many variations, but sangrita is typically a blended mixture of tomatoes (or tomato juice), orange juice and lemon or limejuice, with a fiery element added through Chilies, chile powder or Tabasco sauce. Sangrita is served chilled, usually with a shot of Tequila.
Ad blocker interference detected!
Wikia is a free-to-use site that makes money from advertising. We have a modified experience for viewers using ad blockers

Wikia is not accessible if you've made further modifications. Remove the custom ad blocker rule(s) and the page will load as expected.