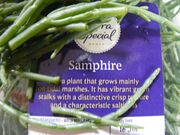 Prep Time: 15 mins
Cook time: 25 mins
Serves: 3
Description
Edit
Everyday quiche with a twist using the complimenting ingredients of smoked salmon and samphire. Samphire is a nutritious naturally salty vegetable that grows in coastal areas.
Ingredients
Edit
Ready made cooked pastry flan base
3 Free range eggs
1/4 pint milk
120g smoked salmon trimmings
30g samphire
Directions
Edit
Preheat the oven to 180°C / 350°F / Gas mark 4
Blanch the samphire for 45 seconds and drain.
Add the salmon and samphire to the flan dish
Beat the eggs and milk together in a bowl.
Pour egg mixture over the salmon and samphire.
Bake in centre of oven for 25 minutes.
Serve with salad and crusty bread.
Ad blocker interference detected!
Wikia is a free-to-use site that makes money from advertising. We have a modified experience for viewers using ad blockers

Wikia is not accessible if you've made further modifications. Remove the custom ad blocker rule(s) and the page will load as expected.