Description
Edit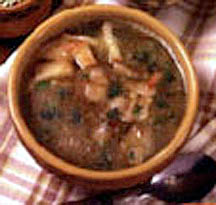 Icelandic salted lamb and pea soup. Saltkjot og baunir is what most Icelanders eat on Shrove Tuesday, or "sprengidagur" (literally "bursting day").
Serve hot as a meal to 8 people.
Ingredients
Edit
Directions
Edit
Simmer, covered, for 45 minutes.
Add the bacon and one piece of meat to the soup and boil the rest of the meat in a separate pan.
Simmer the soup with the meat for around 30 minutes, stirring frequently and adding more water if needed.
Add the vegetables and cook for 20 minutes, or until tender.
The bean soup should be thick (when cold it almost becomes like pease pudding).
The meat and vegetables may be served on a separate plate and eaten with the soup, or cut up small and returned to the soup.
Ad blocker interference detected!
Wikia is a free-to-use site that makes money from advertising. We have a modified experience for viewers using ad blockers

Wikia is not accessible if you've made further modifications. Remove the custom ad blocker rule(s) and the page will load as expected.