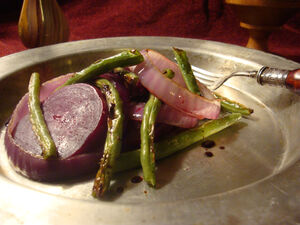 Ingredients
2 large beets
2 red onions
1/4lb green beans, trimmed and cleaned
2 Tablespoon olive oil
your favorite vinegar
Salt and pepper to taste
Directions
Trim and wash the beets and boil for 30 minutes, or until tender. After that, plunge them into cold water and slough off outer skin. Set the beets aside and allow them to cool completely.
Next, slice the onions into rings and separate. Pour 1 tablespoon olive oil in a saucepan over medium heat and add the onions. Cook them until they are tender but still vibrantly colored. Swap the onions with the green beans and cook until tender.
Slice the beets into large discs and begin layering the beets and onions. Top it all off with green beans. Finally, drizzle on your choice of vinegar and olive oil and add salt and pepper to taste.
External Links
Ad blocker interference detected!
Wikia is a free-to-use site that makes money from advertising. We have a modified experience for viewers using ad blockers

Wikia is not accessible if you've made further modifications. Remove the custom ad blocker rule(s) and the page will load as expected.