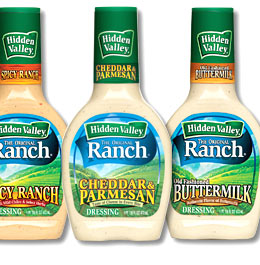 A type of sauce that may use mayonnaise or a vinaigrette combined with other ingredients to create a topping or flavoring that can be mixed into salad greens or salad items being prepared. Salad dressings or sauces as they are also known, have evolved into many different types and varieties that maintain old recipes as well as new and contemporary types of ingredients. They are available as prepared dressings sold commercially or dressings made by hand. Historically, dressings such as mayonnaise, thousand island, vinegar and oil, and Russian dressing were all well known recipes handed down through generations. However, new versions of old recipes continue to be created using a variety of ingredients to enhance and draw out flavors within the food being dressed.
Ad blocker interference detected!
Wikia is a free-to-use site that makes money from advertising. We have a modified experience for viewers using ad blockers

Wikia is not accessible if you've made further modifications. Remove the custom ad blocker rule(s) and the page will load as expected.