Description
Tuna, egg, and lots of veggies make this French salad a meal. Drizzle with low fat salad dressing. Serve with French bread.
Fruits and Veggies Matter by the US Centers for Disease Control and Prevention—public domain government resource
Cook Time: 25 minutes
Serves: 6
Ingredients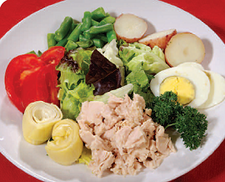 Directions
Cook potatoes in boiling water for 15 minutes. Drain and cool for 10 minutes.
Divide each ingredient into 6 even portions. Arrange ingredients on 6 plates and serve.
Variation
Don't portion ingredients and plate. Place all ingredients in a large salad bowl and serve.
Ad blocker interference detected!
Wikia is a free-to-use site that makes money from advertising. We have a modified experience for viewers using ad blockers

Wikia is not accessible if you've made further modifications. Remove the custom ad blocker rule(s) and the page will load as expected.