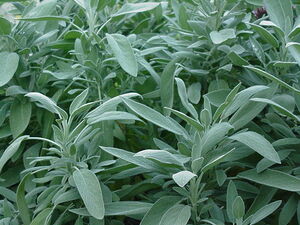 About Sage
Edit
Wikipedia Article About Sage on Wikipedia
Common sage (Salvia officinalis) is a small evergreen subshrub, with woody stems, grayish leaves, and blue to purplish flowers native to southern Europe and the Mediterranean region.
It is much cultivated as a kitchen and medicinal herb, and is also called Garden sage, Kitchen sage, and Dalmatian sage. In southern Europe related species are sometimes cultivated for the same purpose, and may be confused with the common sage. Although this plant was the one originally called by this name sage, a number of related species are now also called by it, and are described in more detail in the article on sage.
Tri-color sage
Edit
A variety of sage which has multiple colored leaves. The leaves are green and have a creamy white border with reddish streaks running through. This decorative sage has a mildly bitter taste and is used for seasoning meats and fish.
Ad blocker interference detected!
Wikia is a free-to-use site that makes money from advertising. We have a modified experience for viewers using ad blockers

Wikia is not accessible if you've made further modifications. Remove the custom ad blocker rule(s) and the page will load as expected.