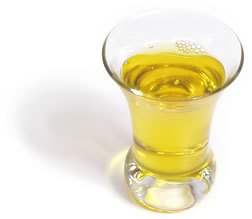 About Safflower oil
Edit
Wikipedia Article About Safflower oil on Wikipedia
Safflower oil is flavorless and colorless, and nutritionally similar to sunflower oil, though made from a different plant (safflower). It is used mainly as a cooking oil, in salad dressing, and for the production of margarine. It may also be taken as a nutritional supplement. INCI nomenclature is Carthamus tinctorius
The oil is high in polyunsaturated fat. It is commonly used in salad dressings because it doesn't solidify when chilled. Safflower is also good for deep frying due to its high smoke point.
Ad blocker interference detected!
Wikia is a free-to-use site that makes money from advertising. We have a modified experience for viewers using ad blockers

Wikia is not accessible if you've made further modifications. Remove the custom ad blocker rule(s) and the page will load as expected.