Ingredients
Edit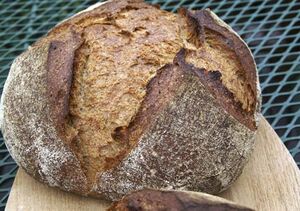 Directions
Edit
Warm the water and grape juice to about 115 °F and stir in the yeast. Let the mixture stand for about 10 minutes or until it is foamy. Stir in the salt, oil, and 2 cups of the flour, and beat it with a spoon or mixer until it is smooth. Add enough of the rest of the flour to make a soft dough. Knead the dough on a floured board for 10 minutes. Place the dough in an oiled bowl, turn it over so the top of the ball is also oiled, and cover it with a towel. Let it rise in a warm (85 to 90 f) place for about 45 minutes, or until it is doubled in volume. Shape the dough into a loaf, place it in an oiled 8 x 4 inch loaf pan, and let it rise in a warm place again for about 30 minutes, or until it doubles in volume. Bake at 425 °F for 10 minutes, then lower the oven temperature to 350 °F for an additional 35 to 45 minutes of baking. Remove it from the oven when the loaf is brown and has pulled away from the sides of the pan slightly. Makes one loaf.
Ad blocker interference detected!
Wikia is a free-to-use site that makes money from advertising. We have a modified experience for viewers using ad blockers

Wikia is not accessible if you've made further modifications. Remove the custom ad blocker rule(s) and the page will load as expected.