Description
Edit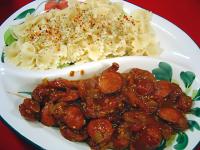 I created this to celebrate my bit of Cajun heritage on Mardi Gras 2004 (many of my father's family lived near Lake Charles, Louisiana)! If you're not into hot and spicy andouille sausage, any smoked sausage can be substituted, but try to use rotini or any other similar pasta (penne, rigatoni or mostaccioli works well, too).
Ingredients
Edit
Directions
Edit
Ad blocker interference detected!
Wikia is a free-to-use site that makes money from advertising. We have a modified experience for viewers using ad blockers

Wikia is not accessible if you've made further modifications. Remove the custom ad blocker rule(s) and the page will load as expected.