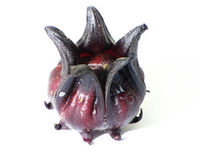 Name Variations
Edit
About Roselle
Edit
Wikipedia Article About Roselle on Wikipedia
Roselle (Hibiscus sabdariffa) is a species of hibiscus native to the Old World tropics. It is an annual or perennial herb or woody-based subshrub, growing to 2–2.5 m tall. The leaves are deeply three- to five-lobed, 8–15 cm long, arranged alternately on the stems.
Ad blocker interference detected!
Wikia is a free-to-use site that makes money from advertising. We have a modified experience for viewers using ad blockers

Wikia is not accessible if you've made further modifications. Remove the custom ad blocker rule(s) and the page will load as expected.