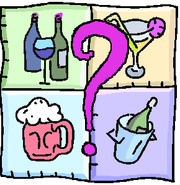 Ingredients
Edit
2.85 litres pink and red rose petals or 60 gram dried petals
285 ml. red grape concentrate
900 gram sugar
1 teaspoon mixed acids (citric, malic and tartaric)
0,5 teaspoon tannin
1 teaspoon yeast nutrient
activated wine yeast, burgundy type
Directions
Edit
Activate the yeast before making up the wine must.
When cool (about 21°C) add the other ingredients including the wine yeast.
Cover the vessel and set aside in a warm place to ferment for 4 days, pressing down the petals every day with a spoon.
After 4 days, strain the liquor into a demijohn and if necessary, top it up with apple juice or cool, boiled water.
Fit a bung and airlock and leave to ferment out to completion.
Rack from the lees when a sediment begins to form.
This wine is drinkable very young, but will get better if you leave it for a few months.
You can collect the petals daily and place them in a plastic back in the freezer until you have enough petals.
Ad blocker interference detected!
Wikia is a free-to-use site that makes money from advertising. We have a modified experience for viewers using ad blockers

Wikia is not accessible if you've made further modifications. Remove the custom ad blocker rule(s) and the page will load as expected.