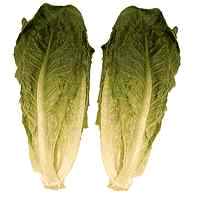 Name Varation
Edit
About Romaine lettuce
Edit
Wikipedia Article About Romaine lettuce on Wikipedia
Romaine or Cos lettuce (often called simply Romaine or Cos) (Lactuca sativa L. var. longifolia) is a variety of lettuce which grows in a long head of sturdy leaves with a firm rib down the center. It is said to have originated on the Aegean island of Cos, which is why it is also known as Cos lettuce. Romaine's elongated head has dark green outer leaves that lighten to pale celadon in the center. The leaves are crisp and slightly bitter and the crunchy midrib is particularly succulent. Romaine adds crunch and flavor to mixed green salads and is the lettuce of choice for Caesar salads.
It grows in a long head of sturdy leaves which have a firm rib down their centers. Unlike most lettuces, it is tolerant of heat. It is cultivated as green, red and baby romaine is available as well.
This is the classic lettuce choice for Caesar salad. It is found throughout the U.S. and should be refrigerated at a very cold temperature to retain its crispness.
A lettuce that originated on the Aegean island of Cos. It grows in a head of long narrow leaves that have a crunchy rib down the center and a mild tangy flavor. It is an excellent lettuce for salads and sandwiches and is the lettuce most commonly used in Caesar salad. Cos lettuce is available throughout the United States and should be refrigerated at very cold temperatures to keep its leaves crunchy.
Ad blocker interference detected!
Wikia is a free-to-use site that makes money from advertising. We have a modified experience for viewers using ad blockers

Wikia is not accessible if you've made further modifications. Remove the custom ad blocker rule(s) and the page will load as expected.