Description
Edit
This dish is perfect for vegetarians. From the heart of Morocco, this dish is absolutely wonderful.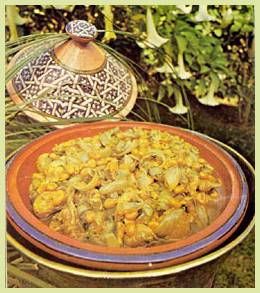 Ingredients
Edit
Directions
Edit
Remove the Potato skins and wash well. Rub them qith a bit of salt andcut into coarse chunks.
Add them to a pan with the butter, half of the onions, pepper, saffron, Chickpeas and 2 glasses of water. Cook it on a very low heat for about 1 hour.
Add the other onions and parsley. Mix it together and allow the pan to simmer for 15 minutes to reduce sauce. When the sauce is thick and the vegetables tender, serve.
This recipe serves 4.
Other Links
Edit
See also
Edit
Ad blocker interference detected!
Wikia is a free-to-use site that makes money from advertising. We have a modified experience for viewers using ad blockers

Wikia is not accessible if you've made further modifications. Remove the custom ad blocker rule(s) and the page will load as expected.