Info
Cook Time:
Serves: 8-10
Ingredients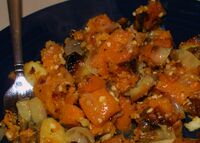 Directions
1.Preheat oven to 450º.

2.In a large bowl, combine all chopped vegetables. Add thyme or rosemary, oil, salt and pepper and mix thoroughly.

3.Pour vegetables in a large baking pan then bake, uncovered, for about 1 hour or until vegetables are tender, turning once.

4.Toss vegetables with balsamic or red wine vinegar then serve.
Source
Ad blocker interference detected!
Wikia is a free-to-use site that makes money from advertising. We have a modified experience for viewers using ad blockers

Wikia is not accessible if you've made further modifications. Remove the custom ad blocker rule(s) and the page will load as expected.