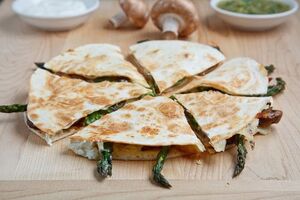 Description
Edit
Contributed by Jenn B aka Mom2Sam and Tiny at World Recipes Y-Group
Serves 4 as a luncheon or supper entrée | 8 as an hors d'oeuvre.
Ingredients
Edit
Quesadillas
Edit
Cumin lime cream
Edit
Directions
Edit
Quesadillas
Edit
Preheat oven to 500°F.
In a large shallow baking pan, toss asparagus with 1½ teaspoons oil and salt and pepper to taste until coated well.
Roast vegetables in upper and lower thirds of oven, shaking pans occasionally and switching position of pans in oven halfway through baking, until tender and lightly browned, about 10 minutes.
Cool vegetables and cut asparagus into ½-inch-thick slices.
Preheat broiler.
Grease a large baking sheet. On sheet, arrange 4 tortillas in one layer and divide vegetables, Pepper Jack, and coriander among them.
Cover quesadillas with remaining 4 tortillas.
Brush top tortillas with remaining 2 tablespoons oil and broil quesadillas about 3 inches from heat until golden brown, about 2 minutes.
With a metal spatula, turn quesadillas over and broil until golden brown, about 2 minutes.
Make cumin lime cream while quesadillas broil.
Cumin lime cream
Edit
In a small bowl, whisk together well cream ingredients.
Cut quesadillas into wedges and serve with cumin lime cream.
Ad blocker interference detected!
Wikia is a free-to-use site that makes money from advertising. We have a modified experience for viewers using ad blockers

Wikia is not accessible if you've made further modifications. Remove the custom ad blocker rule(s) and the page will load as expected.