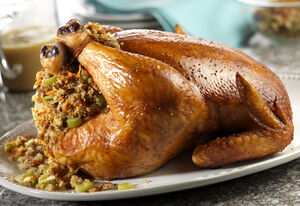 Roast
Chicken
With
Sausage
-
Apple
Stuffing

Melt butter in a Small Oven. Add Half of The thyme, sage, rosemary, salt,And pepper; This is The Herb butter. Set Aside.
In Large Oven (14 Deep) Melt 2 Tbs. butter Over Medium Heat.Add Scallions And Cook Until Wilted.
Scrape butter And Scallions Into a Large Bowl. Set Aside.Add Sausage to Pan And Cook, Stirring to Crumble Until Browned. Remove AndAdd to Scallions.
Add egg, bread Cubes, Apples And The Rest of The Seasoning; Mix Well.Loosely Stuff Chicken Cavity And Tie Legs Together. Save The Rest of TheStuffing.
Place Chicken, Breast Side Up, on a Rack in Oven. Brush With Herb butter AndRoast With 22 Coals Top And 19 Bottom Until Internal Temp. is 175 DegreesAnd Chicken is Golden Brown Basting Every 30 Minutes.Add Extra Stuffing During Last 30 Minutes of Roasting.

Jenn b Aka Mom2sam And Tiny
Http://Groups.Yahoo.Com/Group/1recipes_Galore2007-SmallapplianceHttp://Groups.Yahoo.Com/Group/1recipes_Galore2007-DrinksCheck Them Out
contributed by 
Edit
Ad blocker interference detected!
Wikia is a free-to-use site that makes money from advertising. We have a modified experience for viewers using ad blockers

Wikia is not accessible if you've made further modifications. Remove the custom ad blocker rule(s) and the page will load as expected.