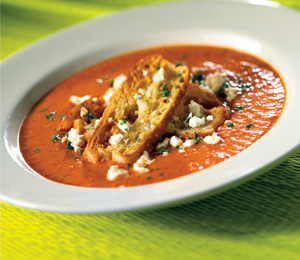 Ingredients
Edit
Directions
Edit
In a small saucepan cook onion and green or sweet red pepper in margarine till very tender.
Stir in basil and ground red pepper, if desired.
Cook and stir for 1 minutes more.
Remove from heat.
In a blender container combine cooked vegetable mixture, tomato juice and buttermilk.
Cover and blend till smooth.
Return mixture to saucepan and heat through.
Or, chill thoroughly.
Ad blocker interference detected!
Wikia is a free-to-use site that makes money from advertising. We have a modified experience for viewers using ad blockers

Wikia is not accessible if you've made further modifications. Remove the custom ad blocker rule(s) and the page will load as expected.