Description
Edit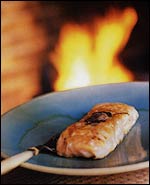 A dish that takes no time to whip up, but good for a normal meal or finger food for a party you are organizing. Double the recipe...it's worth it! From Donna Hay's Dining cookbook.
Ingredients
Edit
Directions
Edit
Wash fish, pat dry on absorbent paper and cut into 12 pieces.
Place chillies, sesame oil, coriander, basil and cumin seeds in a spice grinder or mortar and pestle, and grind until they form a rough paste.
Spread paste over.
Place a piece of on each round, fold in sides and roll to enclose.
Heat a little oil in a frypan over medium heat.
Cook parcels for 2 – 3 minutes on each side, or until rice paper is golden and crispy, and is tender.
Drain on absorbent paper.
Sprinkle with sesame seeds, and serve with steamed Asian greens drizzled with oyster sauce and steamed jasmine rice.
Ad blocker interference detected!
Wikia is a free-to-use site that makes money from advertising. We have a modified experience for viewers using ad blockers

Wikia is not accessible if you've made further modifications. Remove the custom ad blocker rule(s) and the page will load as expected.