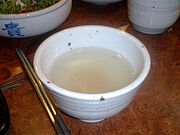 Description
Edit
Yield: 6 servings
Ingredients
Edit
Directions
Edit
Here are the two english language recipes that were on the malt flour package from the korean market.
The stuff is distributed by hanmi, inc and packed in the usa, so it may be widely available in oriental markets.
I haven"t tried these, but they looked interesting.
Put malt flour into luke warm water and set aside for more than 1 hour (don't stir).
Pour the upper clean water into electric rice jar, add steamed rice and Sugar, and keep warm for about 4 hours (do not boil).
When a few rices begin to float, boil the juice and then cool.
Ad blocker interference detected!
Wikia is a free-to-use site that makes money from advertising. We have a modified experience for viewers using ad blockers

Wikia is not accessible if you've made further modifications. Remove the custom ad blocker rule(s) and the page will load as expected.