Help Foodie celebrate repeal day by adding cocktail recipes
Edit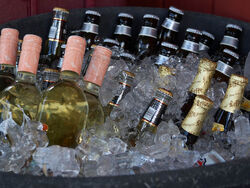 December 5, 2007 marks the 74th anniversary of repeal day—a day which marks the end of prohibition in the United States. For more information on repeal day, please see the Dewar's Repeal Day website and repealday.org.
To celebrate, Foodie is going to create a special alcoholic drink portal and expand it's roster of alcoholic recipes (right now there are only 4 with half of them being for eggnog).
You can help by adding alcoholic drinks recipes. All you need to do is click here and follow the instructions. Please tag the recipes with "Alcohol" or "Beverage" (or both) so they can be found easily for inclusion on the repeal day page. Thanks!
Ad blocker interference detected!
Wikia is a free-to-use site that makes money from advertising. We have a modified experience for viewers using ad blockers

Wikia is not accessible if you've made further modifications. Remove the custom ad blocker rule(s) and the page will load as expected.