Description
Edit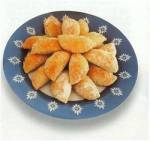 Ingredients
Edit
For the stuffing:
Directions
Edit
Take 75 dkg of flower, 4 eggs, 2 egg yolk, 2 spoons of Sugar, salt, 22 dkg of butter, milk if needed, and beat well and roll into a thin layer and fill with the following stuffing: 50 dkg unpealed, roasted and ground almonds, 3 whole eggs, whipped whites of 2 eggs, a little powder cinnamon, little nutmeg, 50 dkg of Sugar, 2 spoons of rum, maraschino cherrie or brandy, grated lemon core, 1 piece of grated chocolate and 2 spoons of butter. ravioli is cut, stuffed and baked on a temperate fire. In Makarska it is customary to make large ravioli, which they coat with egg white and sprinkle with sliced almonds and vanilla Sugar.
Other Links
Edit
See also
Edit
Ad blocker interference detected!
Wikia is a free-to-use site that makes money from advertising. We have a modified experience for viewers using ad blockers

Wikia is not accessible if you've made further modifications. Remove the custom ad blocker rule(s) and the page will load as expected.