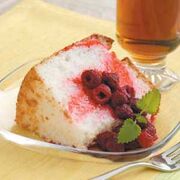 Prep Time: 20 min.
Cook Time: 40 min.
Ready In: 1 Hr
Serves: 8
Ingredients
Edit
Directions
Edit
In a mixing bowl, beat egg whites until frothy; beat in cream of tartar until soft peaks form.
Add the extracts.
Gradually beat in sugar until stiff, scraping bowl occasionally.
Gently fold flour and raspberries into batter until well mixed.
Pour into an ungreased 10-in. tube pan.
bake at 325 °F for 40-45 minutes or until lightly browned and entire top appears dry.
Immediately invert cake pan; cool completely, about 1 hour.
Nutritional information
Edit
Diabetic Exchanges: One serving equals 1 starch; also, 65 calories, 35 mg sodium, 0 cholesterol, 13 gm carbohydrate, 3 gm protein, trace fat.
Ad blocker interference detected!
Wikia is a free-to-use site that makes money from advertising. We have a modified experience for viewers using ad blockers

Wikia is not accessible if you've made further modifications. Remove the custom ad blocker rule(s) and the page will load as expected.