Description
Edit
This special Ramadan dish will remind you of Gyros (Döner) with yogurt and is so easy to prepare. You can start making this, 30 minutes before dinner. Use of garlic is one the best ways to make you want to drink water, which restores the liquid in a body from which a fasting person refrains during the day.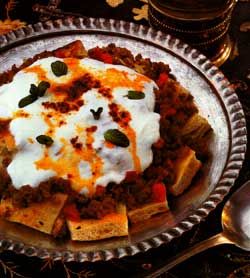 Ingredients
Edit
Directions
Edit
Other Links
Edit
See also
Edit
Ad blocker interference detected!
Wikia is a free-to-use site that makes money from advertising. We have a modified experience for viewers using ad blockers

Wikia is not accessible if you've made further modifications. Remove the custom ad blocker rule(s) and the page will load as expected.