Description
Edit
Stewed rhubarb.
Rhubarb grows in almost every vegetable garden in Iceland, right alongside the potatoes. In the summer, it is mostly used for soup and "grautur" (thick stew). It is preserved mostly as jam, but it also freezes well, and tastes excellent when preserved in syrup. There are many homes where rhubarb soup/porridge is eaten throughout the winter. It is also good for desserts (especially pies and compote) and chutneys, and it makes excellent wine.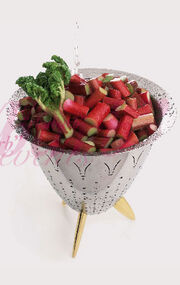 Ingredients
Edit
Directions
Edit
Rhubarb soup
Edit
Follow the above recipe, but only use about a quarter of the starch.
Serve hot.
Replace part of the rhubarb with strawberries for a delicious alternative.
If the soup/porridge looks unappetizingly green, add some red food coloring.
This will not be necessary if you are using the red rhubarb variety.
Ad blocker interference detected!
Wikia is a free-to-use site that makes money from advertising. We have a modified experience for viewers using ad blockers

Wikia is not accessible if you've made further modifications. Remove the custom ad blocker rule(s) and the page will load as expected.