Description
Use this sauce on hot dogs, chicken, or meatballs. Make Sloppy Joes. Use as a barbecue sauce for hot dogs, chicken, or meatballs. (It easily will coat eight pieces of chicken.) Use as a marinade for chicken or meat. Pour over pieces in a deep dish and refrigerate in marinade at least 12 hours to tenderize.
Quick Barbeque Sauce from Recipes for Better Nutrition During Cancer Treatment by the National Cancer Institute, public domain government resource—original source of recipe
Ingredients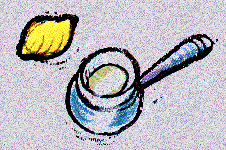 Directions
Mix together in small saucepan. Heat until boiling, stirring as it cooks.
Ad blocker interference detected!
Wikia is a free-to-use site that makes money from advertising. We have a modified experience for viewers using ad blockers

Wikia is not accessible if you've made further modifications. Remove the custom ad blocker rule(s) and the page will load as expected.