Description
Edit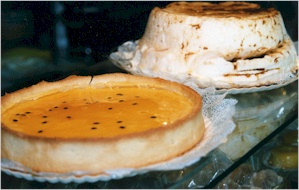 Ingredients
Edit
Directions
Edit
Gradually whisk the egg whites until foamy .
Increase the speed and add the Sugar by spoonfuls.
When the meringue forms stiff peaks, fold in the lime zest.
Use a rubber spatula to gently spoon the meringue into the mold.
Bake until the surface is golden brown (about 5 minutes in my oven, which is really hot).
Cool and refrigerate, covered, overnight.
Just before serving, run the tip of a knife around the inside of the mold.
Place a deep platter over the mold and invert: the pudim should slide out easily.
If not, give the mold a firm but careful shake.
Spoon the caramel sauce on top and serve.
Serves about 10.
Other Links
Edit
See also
Edit
Ad blocker interference detected!
Wikia is a free-to-use site that makes money from advertising. We have a modified experience for viewers using ad blockers

Wikia is not accessible if you've made further modifications. Remove the custom ad blocker rule(s) and the page will load as expected.